By Dean 'Mac' Nichols, Attorney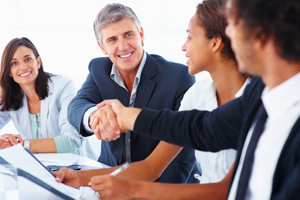 Selecting just the right location for your business is incredibly important. After all, they say it's all about location, location, location. But even if you have found the perfect location, it's important to take a good look at your lease and review it with a professional before putting your signature on it.
Here are some sections you might see and what they mean for you:
• Tenant Improvement Allowance
This is the amount a landlord will pay for tenant improvements to help it meet a new tenant's specific requirements. These potential improvements could include structural as well as common space adjustments—changing walls or partitions, and modifying plumbing, electrical, and HVAC systems. This can be an incentive to sign a lease even when the current space doesn't quite meet your ideal requirements.
• Length of Lease
Consider when it begins and whether or not there are renewal options. You may not be able to predict how quickly your business will grow or how well the location will work for you, so short-term leases with renewal options are preferable.
• Rent
Does the cost of your rent include insurance, property taxes, and maintenance costs (gross lease), or will you be charged for each of these items separately (net lease)?
• Maintenance and Repair
Commercial leases tend to vary in terms of maintenance and repair. Determine how maintenance and repair expenses are divided. Who is responsible for property upkeep like lawn-care, repairs on the property, HVAC and plumbing systems, etc?
• Specifications on Signs
Can you put a sign up? What type and where? Will the landlord pay to affix it or is it the responsibility of the tenant to put up and take down business signs?
• Notice Requirements
If the lease is terminated, how will this be done? What kind of notice will be given? This might also include provisions for early lease termination.
• Insurance Requirements
Review the insurance section of the lease with your insurance agent to make sure you have the proper coverage and the cost of that.
• Damage/Destruction
Whose obligation is it to rebuild? What are the timeframes specified in the lease? Do the insurance provisions compliment this section?
Commercial leases cannot be changed without the landlord's agreement once they are signed. There are no consumer protection laws as there are with residential leases. Because your lease is an important part of your business, it is even more important to work with a lawyer on the lease terms in order to ensure that it meets your needs and requirements.
Contact us if we can help you review the lease for your business's new location.