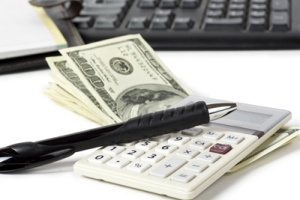 In order for an investor to have a completely tax-deferred 1031 exchange, he must use all of the cash from the sale of the relinquished property.  Many of the sale-related expenses and certain replacement property purchase costs can be paid with exchange funds without creating a tax liability.  Non-exchange expenses require payment with the investor's own funds.
Non-Allowable Expenses and Costs:
Rather than give a buyer credit at closing, the exchange seller should pay the following items with his own funds.
Security deposits and prorated rents
Prorated real estate taxes
When the taxpayer buys the replacement property, he should pay the following items with his own funds.
Insurance premiums
Lender-required appraisal and environmental costs
Lender's title insurance policy premiums
Loan costs and fees
Allowable Expenses and Closing Costs:
Though official IRS rulings are mostly non-existent, except for Revenue Ruling 72-456 allowing exchange funds to pay broker commissions, tax professionals mostly concur with allowing payment at closing of the following expenses.
Real estate broker's commissions
Qualified intermediary fees
Owner's title insurance premiums
Appraisal fees required by a purchase contract
Attorney fees related to the sale or purchase of the property
Recording and transfer fees
Tax advisor fees
Issues such as constructive receipt, offsetting certain non-allowable 1031 expenses, and other issues related to use or non-use of exchange funds and the timing thereof, require prior consultation with the investor's legal and tax advisor well before closing on the property to structure a Section 1031 exchange that is completely tax-deferred.
We would be happy to assist you in this area.  www.layman-nichols.com